Hyaluronic acid is one of the most sought-after skincare ingredients on the market. Hailed by leading brands and skincare experts alike, for its clinically proven hydrating properties. 
Known to actively retain moisture and hydrate the outer layers of the skin, hyaluronic acid helps to minimise the signs of ageing, plump the skin and make fine lines and wrinkles less visible.
In recent years there has been an influx of products to hit the shelves containing hyaluronic acid. From face masks and night creams to serums and moisturisers. With so many products on the market, it can be hard to know how to use hyaluronic acid for the best results. Learn how to level up your skin routine with our guide. 
What is hyaluronic acid?
Hyaluronic acid is a natural substance found in our eyes, joints and skin. It acts as a lubricant and helps the body to retain water as well as aiding the natural healing process. 
Almost 50% of the body's hyaluronic acid is found in the layers of the skin. It helps cells survive by thickening the epidermis layer and preventing a buildup of dead skin. It also protects the epidermis from free radicals that are formed from exposure to UV rays, a common cause of sun damage.  
Hyaluronic acid retains moisture in the skin by nourishing collagen and maintaining elasticity. As we age, the amount of hyaluronic acid in our bodies depletes. Our cells hold less water and collagen begins to reduce. This leads to a loss of skin volume and plumpness causing it to appear aged, tired and dull. 
Give your skin a helping hand by using products formulated with hyaluronic acid to boost hydration and fight the signs of ageing. 
How does hyaluronic acid work? 
When applied to the face, hyaluronic acid pulls water molecules from the air and binds them to the skin. This increases the skin's water content which helps to combat the signs of ageing by plumping the skin and reducing fine lines and wrinkles.  
When choosing the right skincare product for you, it's worth knowing that hyaluronic acid can appear in different molecular weights depending on the product's formulation. The lower the molecular weight, the deeper the product can penetrate the skin, and the better the results will be. 
It also comes in different concentrations. Products that contain a higher concentration of hyaluronic acid provide hydration and anti-ageing properties. Products with lower concentrations of acid are used to target acne and smooth out the skin tone. 
How to use hyaluronic acid
Hyaluronic acid is generally considered safe for all skin types and very rarely causes side effects, but it's best to carry out a patch test if you are using it for the first time. If an allergic reaction occurs, discontinue use. 
Hyaluronic acid is known to be most effective when applied correctly alongside your other skincare products.  Follow our tips on proper application for maximum effectiveness:
Moisturisers and serums are two of the most common forms of hyaluronic acid. Use your HA moisturiser in place of your daily moisturiser and apply it to clean skin morning and night. 
To use a serum, begin by cleansing your face with your usual cleanser and follow with toner if desired. Then slightly dampen your skin and apply the hydraulic acid. Applying to damp skin will lock in the moisture underneath. Follow immediately with a layer of moisturiser or face serum to seal everything in. 
For daytime use, don't forget to finish with an SPF such as the SkinCeuticals Ultra Facial UV Defense Sunscreen SPF 50 to protect your skin from harmful UV rays. 
Can I use hyaluronic acid with other skincare products? 
The good news is that hyaluronic acid works well with most ingredients and can be layered with other serums, peels or face creams.  
Generally speaking, when layering products, start with the thinnest consistency and build up to the thickest. In general, serums come first, then oils, then moisturisers. 
How to use hyaluronic acid and vitamin c
Vitamin C is known for its antioxidant properties. Combining a vitamin c serum with hyaluronic acid is a popular way to slow early skin ageing, prevent sun damage, and improve the appearance of wrinkles, dark spots, and acne.
Vitamin c is best applied in the morning and underneath your hyaluronic acid product. 
How to use hyaluronic acid and retinol 
Hyaluronic acid and retinol are a powerful combination and one of the most popular skincare pairings. Using hyaluronic acid and retinol together is perfectly safe and can boost the skin's softness and texture. It's always best to use retinol at night. Apply a layer to clean dry skin and follow with your hyaluronic acid to lock in the moisture. 
What are the benefits of hyaluronic acid for the skin? 
Hyaluronic acid is well known for alleviating dry skin. As well as reducing fine lines and wrinkles. Amazingly it can bind up to 1,000 times its weight in water. This helps to keep the skin hydrated by slowing the rate at which water evaporates. Other benefits of hyaluronic acid include: 
Faster wound healing 
Anti-ageing
Increased skin elasticity
Binding moisture 
Smoothing wrinkles 
Helps to treat eczema
Helps to reduce redness
What are the side effects of hyaluronic acid?
Hyaluronic acid applied topically is safe when used appropriately, but avoid use if you are pregnant or breastfeeding. If you have sensitive skin, you should check the other ingredients in your hyaluronic acid product. Alcohol, fragrance or preservatives can sometimes be causes of irritation, so double-check the formula and always do a patch test before use.  
The best hyaluronic acid products 
With so many hyaluronic acid products on the market, we've put together a list of our favourites to help you elevate your skincare routine: 
SkinCeuticals H.A. Intensifier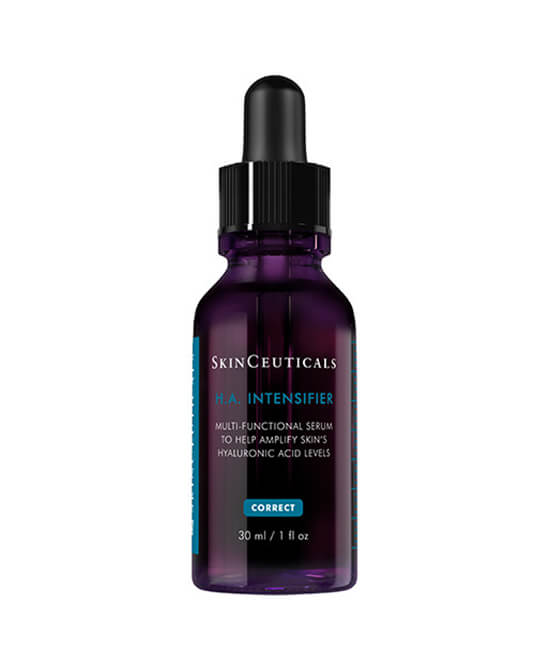 The SkinCeuticals  H.A. Intensifier is a multi-beneficial corrective serum that boosts the skin's hyaluronic acid levels. With a high concentration of acid and added botanicals of liquorice root and purple rice, it delivers surface hydration whilst improving the skin's appearance, firmness and plumpness. 
PCA Skin Hyaluronic Acid Overnight Mask
The PCA Skin Hyaluronic Acid Overnight Mask is a deeply hydrating face mask that rejuvenates your skin while you sleep. Enhance the natural regeneration process of the skin while maintaining moisture retention, radiance, and luminosity.
Dermaquest Essential B5 Hydrating Serum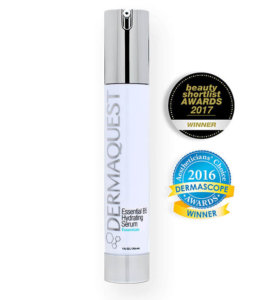 Dermaquest Essential B5 Hydrating Serum is a concentrated hyaluronic acid formula that is enriched with ferulic acid. Ideal for fighting the signs of ageing by plumping wrinkles and providing a hit of moisture. 
iS Clinical Hydra-Cool Serum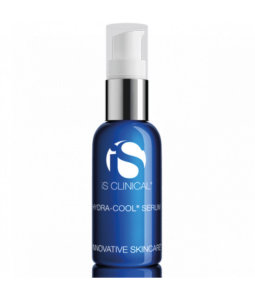 iS Clinical Hydra-Cool Serum is formulated to rejuvenate, hydrate, and visibly soothe the skin. This refreshing, powerful, penetrating serum combines superior antioxidants with essential botanicals and bio-nutrients. HYDRA-COOL SERUM is designed for all skin types and for all ages, and is gentle enough for even the most sensitive skin.