When it comes to skincare, there are so many different active ingredients out there, but Vitamin C is one of the most common. With a multitude of benefits, it's no wonder that vitamin C skincare products are growing in popularity.
Not only can it be used to target a wide array of skin concerns, but it is also readily available. There are hundreds, if not thousands of skincare products that harness the power of vitamin C within their formulations.
If you haven't already, discover why you should incorporate vitamin C into your skincare routine and how to use it to get the best results!
What is Vitamin C?
Vitamin C is a potent antioxidant that works to keep the body and skin healthy. It is required for the growth and repair of tissue, including our skin.
The body cannot produce vitamin C on its own therefore we must gain it from food, supplements and topical applications. Fruits and vegetables such as oranges contain vitamin C, whilst topical vitamin C can be found in skincare products including cleansers, toners, serums and moisturizers.
Serums are one of the most common vitamin C skincare products used.
The Different Types of Vitamin C
Found in food, supplements and skincare products, vitamin C can be used in many different forms. There are both active and inactive forms of vitamin C; only active vitamin C derivatives are effective in skincare.
L-ascorbic acid is the purest and most common form of vitamin C. Other derivatives of vitamin C include sodium ascorbyl phosphate and ascorbyl palmitate. These variations have been mixed with other ingredients in order to stabilise it. When in contact with the skin the L-ascorbic acid (pure vitamin C) is released. Products with these derivatives will generally release less vitamin C than products formulated directly with L-ascorbic acid.
For skincare purposes, topical vitamin C should be used.
Topical vitamin C
Topical vitamin C is any product that contains active vitamin C and is applied externally to the skin. Ingesting vitamin C in the form of supplements will not give you the levels required to see significant skin improvements. It can however help to protect internal structures such as blood vessels and bones.
The Benefits of Vitamin C for Your Skin
Now you know what vitamin C is, you may be wondering how it can benefit your skin. There are a whole host of reasons you should incorporate vitamin C into your skincare routine.
Vitamin C can be used to:
Brighten skin
Vitamin C has anti-inflammatory properties and has been shown to improve skin tone and texture. Because of this, regular vitamin C use reduces dullness leaving you with radiant and youthful-looking skin.
Hydrate skin
Certain derivatives of vitamin C have been shown to improve skin hydration. One study showed that magnesium ascorbyl phosphate has a hydrating effect on skin by decreasing transepidermal water loss.
Reduce the visible signs of aging
Topical vitamin C can be used to prevent oxidation of the skin. Oxidation can lead to premature skin aging therefore regular use of vitamin C can help to slow down the aging process.
Reduce redness
Vitamin C has natural anti-inflammatory properties that help to soothe skin, reducing puffiness and redness. This leaves you with a more even skin tone and a healthy-looking complexion.
Treat hyperpigmentation
One of the key benefits of vitamin C is that it can be used to treat hyperpigmentation of the skin. Hyperpigmentation is the overproduction of melanin (the skin's natural pigment). This can result in age spots, sun spots and melasma.
Vitamin C works to reduce hyperpigmentation by impeding the production of melanin by reducing the activity of the tyrosinase enzyme.
Promote collagen production
Collagen is a protein that occurs naturally in the body. It is found in the skin and gives it support and structure. Unfortunately, collagen degrades with age leading to lines and wrinkles.
Vitamin C is required for the synthesis of collagen; without vitamin C the body is unable to produce it. This is because vitamin C acts as the cofactor for the 2 enzymes involved in the process.
Topical vitamin C serums can be used to restore collagen production and reduce the visible signs of ageing.
Protect against free radicals
Free radicals are unstable molecules that can damage cells resulting in dullness, wrinkles and even cancer. Free radicals in the skin can be caused by environmental factors such as UV exposure and pollution. Vitamin C can protect against this.
Antioxidants neutralise the production of these highly reactive free radicals making vitamin C the ideal ingredient to protect your skin against UV and environmental damage. Vitamin C should always be used in conjunction with sunscreen, not instead.
Aid wound healing
Vitamin C can be used to promote healthy wound healing. Vitamin C is used by the body to repair tissue and synthesise collagen which is associated with this process. The anti-inflammatory properties also help to reduce the chance of infection and scarring.
Building Vitamin C Into Your Skincare Routine
Sounds great right..but how do you build vitamin C into your skincare routine?
Vitamin C doesn't easily penetrate the skin's natural barrier so you should bear this in mind when choosing products. You should choose formulations that have a concentration of at least 10% vitamin C in order for them to be effective.
Always choose professional vitamin C products from reputable skincare brands for best results. You could not use vitamin C powders mixed with other products for example, as the pH must be acidic to allow for absorption.
Serums that contain over 10% L-ascorbic acid have been shown to be the most effective for skincare.
How to apply vitamin C serum
If you're new to vitamin C carry out a patch test first. Apply a small amount of product onto a concealable area of skin and wait 24 hours. If an allergic reaction occurs, discontinue use.
Vitamin C serums are usually applied morning and evening, after cleansing and toning. Place a few drops of serum on your skin and smooth over your face. You will only need a small amount. Apply moisturizer after serums and always read the product label for specific guidance.

Vitamin C serums are generally safe to use alongside other skincare ingredients, however using alongside niacinamide may reduce efficacy.
How often should I use vitamin C skincare products?
Vitamin C should be applied to the skin once or twice a day. Most people use vitamin C serums in the morning and before bed.
Vitamin C can cause mild irritation if the skin is not used to it, so you may want to begin applying once a day and work your way up to twice a day when your skin has adjusted.
The Best Vitamin C Serums
There are many vitamin C serums on the market. We have put together our top recommendations to help you up your skincare regime!
Obagi Professional C Serum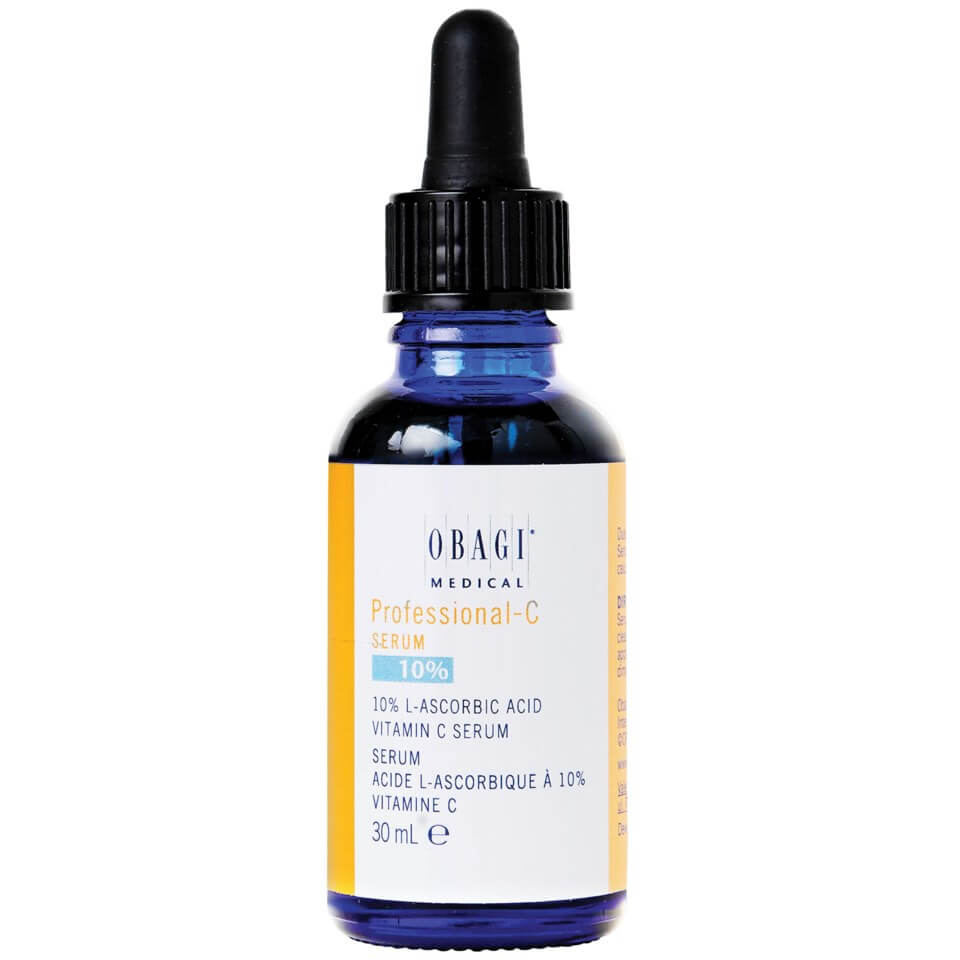 The Obagi Professional C Serum range is ideal for those just starting out with vitamin C. With 10%, 15% and 20% vitamin C formulations, Obagi products allow you to build up your tolerance whilst providing increased protection against environmental stressors and brightening skin.
iS Clinical Pro-Heal Advance+ Serum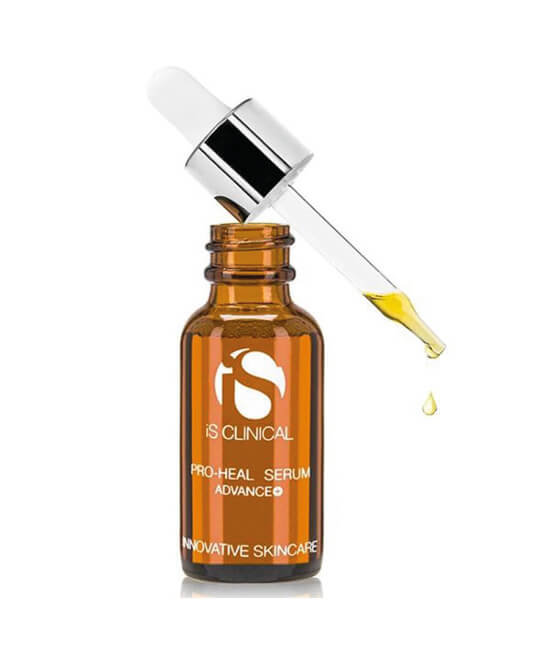 The Pro-Heal Advance+ serum from iS Clinical is formulated with olive leaf extract, vitamin A and vitamin E. Combining vitamin C with vitamin E has been shown to improve efficacy. Providing powerful antioxidant benefits, it can help to improve the appearance of compromised, blemish-prone, and aging skin.
SkinCeuticals CE Ferulic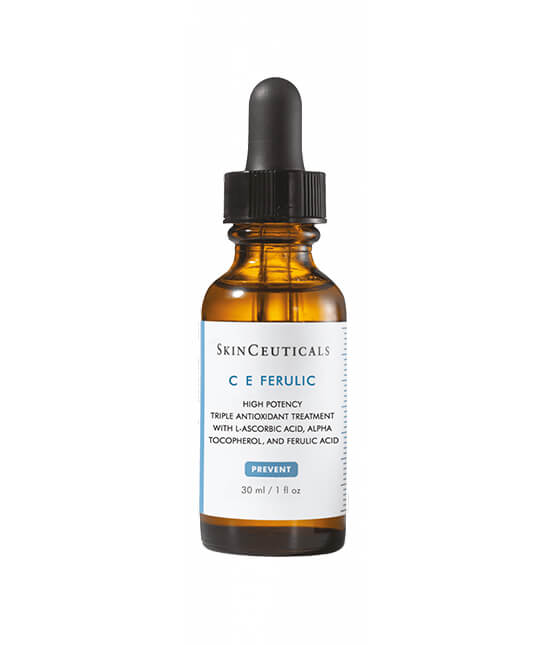 SkinCeuticals CE Ferulic serum uses a patented combination of vitamin C (15%), vitamin E (1%) and ferulic acid (0.5%) for maximum results. Clinically proven to protect against free radicals, it is fast absorbing and works for up to 72 hours after application.
SkinCeuticals Phloretin CF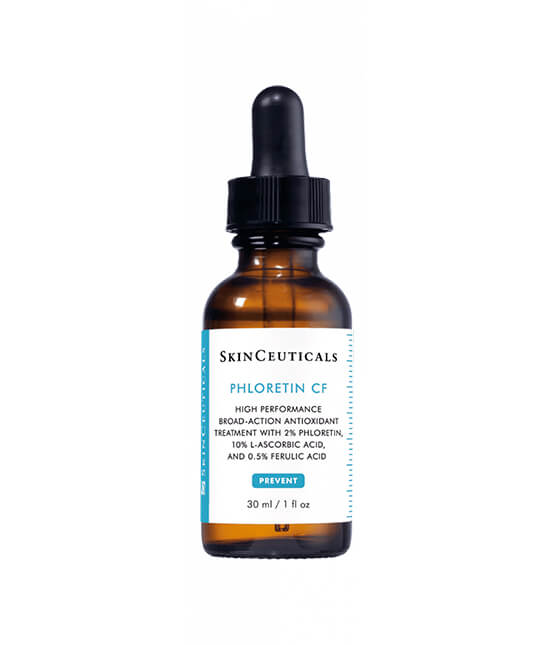 Combining vitamin C (10%), phloretin (2%) and ferulic acid (0.5%), the SkinCeuticals Phloretin CF serum works to protect the skin, helping to diminish discoloration and prevent damage and premature aging.
FAQs
Are there any side effects of vitamin C?
Vitamin C is generally well-tolerated however it can cause irritation for those with sensitive skin. If you have sensitive skin, start with a lower concentration vitamin C serum and work your way up. You should also carry about a patch test before use.
Are vitamin C products suitable for my skin?
Vitamin C products are suitable for a wide range of skin types. With a variety of formulations to choose from, you can usually find a combination that works well for you.

For example, if you have oily skin, choosing a serum with low oil content may be wise. Higher concentration products or vitamin C serums that contain other acids may not be suitable for those with sensitive skin.
What does it mean if my vitamin C serum has changed colour?
If your vitamin C serum turns orange or brown, it means that it has oxidized. It can oxidize when exposed to light, air or heat and will no longer work effectively. This is why packaging for vitamin C serums are generally dark or opaque in colour. You should always completely close your product after use and store in a cool dark place.
Can I still use oxidized vitamin C serum?
No, oxidized vitamin C will not work effectively. You should replace your serum.